What major problem areas can certification potentially solve?
Problems solved by certification can be divided into 4 broader areas:
Brand Image & Organisation Reputation
Revenue Growth
Profit Growth / Cost Reduction
Risk Mitigation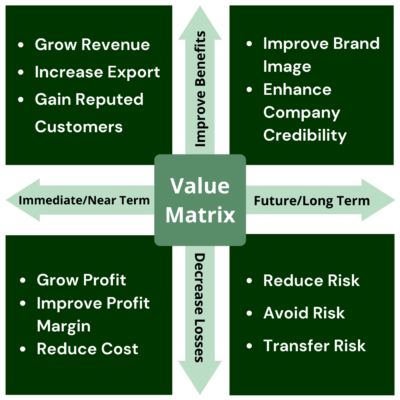 Potential Benefits to Learning & Development Providers
Industry as well as government mostly appreciates professional development irrespective of career level, industry sector, career level, job function and responsibilities. The SPSC Certification Service supports organisations validate knowledge into an organised as well as recognised methodology to meet industry & government expectations.
By running a learning & development activity that has received SPSC accreditation, you should attract more participants. You may also be able to expand into new countries.
You can access new technology with our digital certificate service which provides dual verifiability in a public domain. This includes QR code verifiability through mobile phone camera as well as unique number verifiability through website
The UK education standards are highly regarded internationally and we offer UK based & registered organisations' accreditation.
Apart from the business growth opportunities, you will be a vital part of our network of successful sustainability training providers committed to being in the best in their category.
You can be a part of our sustainability practice committee, which ensures that we are all improving, together.
The SPSC accreditation should help with
Increased visibility
Validation of knowledge & content
Enhanced marketability
Improved pricing
Improved educational & training performance
Enhanced reputation of learning & development activity
Boosted the credibility of the institute
Increased confidence of students and other stakeholders
Added respect from peers
Reduced risk
External certification is better than self-certification
Potential Benefits to Students & Professionals
Pursuing courses accredited by the SPSC Certification Service UK confirms that you are investing your time and money on activities which are relevant in some ways.
The approval from the SPSC Certification Service – UK enhances the trust factor.  As you all know that SPSC stands for Sustainability & United Nations Sustainable Development Goals.
The learning & development activities should allow individuals to continually up-skill, reskill or new-skill themselves, irrespective of education, location, age, gender or occupation.
Each certification number is regulated, so the verifiable certificate enhances confidence.
It should help with
Improved employability
Better earning potential
More chances of promotion & pay raise
What makes The SPSC Accreditation credible and authentic?
The following points make The SPSC Accreditation unique, authentic, credible, admirable, and courteous:

Law – Regulatory – Compliance – This British Certification is issued by an independent global organisation registered in the UK. So it has to follow the following strict laws while issuing certification:

The Green Claims Code Sept 2021, is exceptionally deep, broad & strict.
Modern Slavery Act 2015, which is global in nature
Bribery Act 2010, which is again global in nature
Sanctions & Anti-Money Laundering Act 2018
Data Protection Act 2018, which is again global in nature

Principles –

We follow United Nations sustainability principles for social, environmental, and ethical assessments.
We follow International Labour Organisation – ILO conventions and recommendations agreed upon by more than 200 national governments.

Quality of Assessment & Accreditation Team – The SPSC assessment team consists of Ph.D. degree holders and highly experienced industry professionals, so you have a high-quality professional either assessing or performing the quality check.

Quality of Creation Team – The SPSC accreditation questions, checkpoints, and evaluation has the input of 100+ global sustainability experts.

Authenticity Verification & Transparency – The SPSC certificates are easily verifiable by anyone through a smartphone camera with a QR code reader, so fake certificates and claims are caught instantly.

Type of Process – This is an external accreditation from a non-consulting organisation, so more credible than a self-declaration, a self-certification, or a 2nd party certificate.

Quality of Process – All accreditation follows at least a 4-eye approach, so a minimum of two people are involved in the assessment. One assessor and one quality controller.

Transparency – We offer totally free public verification of certificates issued by us. So this transparency is genuine, as there are no fees attached to transparency.

Data & Security – We are aligned with United Kingdom's Data Protection Act, 2018. We do not collect or store personal data related to age, gender, date of birth, address, race, ethnic background, political opinions, religious beliefs, trade union memberships, genetics, biometrics, health, sex life, or orientation. Apart from email id, we keep social media profile links to confirm identity.

Social Responsibility – We provide free accreditation to courses, events, and projects managed by charities, social enterprises, and non-profit organizations. We also selectively provide free accreditation to free learning & development activities conducted by private players.

Affordability – We are a purpose-driven organisation, so our cost should reflect our purpose and not profitability.

Simple & Easy – The results are simple & easy to use

No need to operate a new system.
No need to remember your login and password.
No need to learn a new system. So saves time, money & effort for training.
No need for extra storage space on your server.

Unique & Exceptional – Inclusion of some ISO guidance

ISO20400 – Sustainable Procurement Guidance
ISO26000 – Social Accountability Guidance
ISO14001 – Environmental Management
ISO37001 – Anti-Bribery Management

Customer Base – Our global customer base covers 6 continents & 81 countries.

Public Recognition – We have more than 10,000 members on our social media groups LinkedIn & Facebook. We believe that they trust us for our commitment & support towards sustainability.

Accreditation/Membership – We are a member of the following global organisations:

Council of Inclusive Capitalism
Volunteer Groups Alliance
SME Climate Hub
Learning for Sustainability SCOTLAND (LfS)