The SPSC Certification Service – UK is a globally recognised sustainability related learning & development accreditation organisation. We are recognised by professionals and organisations in more than 100 countries.
The SPSC Certification Service engages, supports, and recognizes independent learning & development activities. We complement the policies and procedures of professional institutes, academic bodies as well as independent professionals.
Our team of highly experienced & highly educated (25+ PhD level) assessors add enormous credibility to our UK based accreditation service.
Verifiability of each and every certificate makes us different. This applies to all certificates issued for all our accredited training & development activities.
Certificates issued by us have dual verifiability. It can be verified using our certificate verification link https://1spsc.org/verify/. Secondly, it can also be verified by scanning QR certificate code using mobile phone camera. This is a totally free public verification.
A certificate issued by training provides can also be verified on our certificate verification link https://1spsc.org/verify/. This helps us prevent issue of Illicit, illegal and fraud certificates using our watermark, logo and/or signature.
So if there is our name, logo, watermark and/or signature on a certificate, then that certificate should be verifiable on our certificate verification link https://1spsc.org/verify/. If you cannot verify the certificate then that certificate is not valid in our eyes.
On the one hand, this makes your certificate incredibly reliable, unique as well as transparent to everyone. On the other hand, this provides much needed assurance to professionals who participated in our approved learning & development activity.
For organisations, it takes away their worry about authenticity of non-verifiable certificates. It also helps them detect fake certificates.
List of sustainability related learning & development activities, which can be accredited by The SPSC Certification Service – UK:
Training & Coaching
E-Learning / Self-Paced
Workshop
Event
Conference
Seminar
Webinar
Collaborative Competition
Project & Program
Community Activity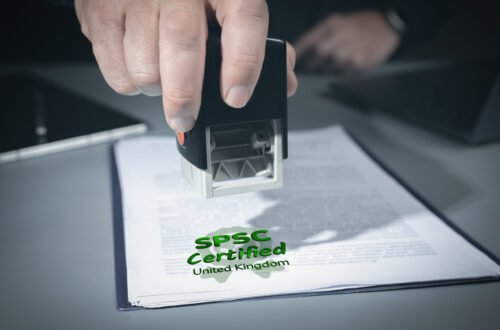 Our purpose is to support acceleration of the world's transition to sustainability.
Create sustainability awareness of trainings, coaching, workshops, e-learning, conferences, webinars, seminars, award ceremonies, projects, collaborative competitions, community activities, improvement challenges, etc.
Engage and recognise individuals and organisations to promote capacity building through sustainability education.
Collaborate with customers, suppliers, government organizations, not-for-profit organizations, NGOs, co-operatives, and educational institutes.
Collaborate with competitors to promote sustainability education solutions.
Recognise contributions of organizations, individuals and initiatives through certificates, awards and accolades.
We admire following global organisations, and so we align our purpose and purpose actions with their principles:
United Nations Sustainable Development Goals – UN SDGs
UN Environment Programme
United Nations Human Rights Council
International Labour Organisation – ILO
International Standards Organisation – ISO
United Nations University
World Intellectual Property Organisation – WIPO
Inclusive Capitalism
SME Climate Hub
Learning for Sustainability SCOTLAND
Purpose Alignment with United Nations Sustainable Development Goals